RECRUITING 4 SIGNIFICANCE FOR HIGH SCHOOL AND CLUB ATHLETES
Hudson Blake
Sport: Tennis
Brophy College Prep, Class of 2013
Texas Christian University


"Jackie Hutt was a true leader on our team. My husband and I hired Jackie to help guide us through the process of placing our son, a high school athlete into a position of becoming a college athlete. In our eyes we thought we were doing all the right things. He was updating coaches with his continued progress based primarily off the tennis recruiting site. He was working hard academically and athletically, playing well, and striving to reach his goal of playing college tennis, but we needed more. Once Jackie came into play she came up with a game plan, she knew the system and how things worked and how to get the attention of coaches. With her knowledge and expertise she helped guide Hudson to his dream! He is now attending TCU as a member of the men's tennis program. Thank you Jackie for all your communication, support and guidance (at all hours) with my son!"



- Barb and Bill Blake, Hudson's parents




"I will forever be grateful to Jackie Hutt for everything she did to help me become a mustang at Southern Methodist University (SMU). She is the best sports life coach out there and helped made the recruiting process a lot simpler and less stressful. I definitely recommend her to anyone that needs help getting their names to stand out to coaches. YOU ROCK Mrs. Hutt :)"



- Margaret Brennan

Margaret Brennan
Sport: Track
Xavier College Prep, Class of 2013
Southern Methodist University

Daniel Bonnell
Sport: Golf
Shadow Mountain High School, Class of 2013
University of Nebraska - Kearney

"Thank you for being on my recruiting team and helping me find a college that is a great fit for me both on the golf course and in the classroom."



- Daniel Bonnell
What is Recruiting 4 Significance?
Choose the college instead of the college choosing you- find the right fit (athletically and academically) both on and off the field.
Experience being Sports Life Coached by a former Division I athlete, who understands what it takes to be successful at the next level.
Gain understanding and training in 3D Tools to manage your time, energy and emotions for optimum performance, personally and academically.
Get a comprehensive Evaluation of your athletic ability by former collegiate/professional players and coaches.
Utilize existing connections with college coach and receive personal introductions.
Create "The Power of Your Story" to set yourself apart from other recruits.
Create a proactive plan to recruiting so there are no surprises- be prepared and start the process early.
Build a Recruiting Team to provide support to help you stay focused throughout the process.
SPORTS PHILANTHROPY FOR HIGH SCHOOL AND CLUB ATHLETES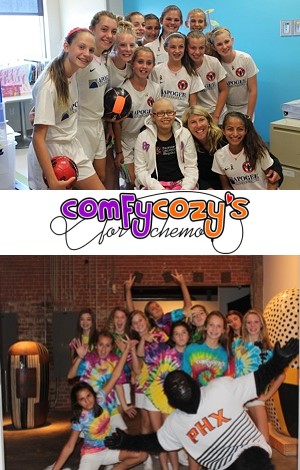 "My favorite experience with the Girls 12U soccer team girls was watching them use their sport to connect the children at Phoenix Children. It was great just watching them being girls, our children just want to be normal kids and sing songs, talk about their favorites movie stars, play games or just work on a crafts. Your girls brought a little normal to the crazy world of childhood cancer. Their willingness to help with any task was so refreshing; I look forward to many projects in the future."
- Lorraine Tallman, Founder Comfy Cozy's for Cancer
Top Photo: Blackhawks Girls Red 00 Soccer Team visiting Comfy Cozy kids at Phoenix Children's Hospital, May 18, 2103

Bottom Photo: Phoenix Rush Girls Nero 00 Soccer Team modeling Comfy Cozy's for Chemo shirts with Phx Suns Gorilla at the First Annual Comfy Cozy Gala, September 21, 2013
What is Sports Philanthropy?

Giving back is a "Winning Strategy" for everyone involved in Patterson Sports Ventures (PSV) Coaching. Because we believe, "to whom much is given, much is expected" we are committed to training our student-athletes in the PSV fundamentals of Sports Philanthropy.
Patterson Sports Ventures Fundamentals of Sports Philanthropy
Connect athletes of all ages with a social cause that is relevant to their lives
Demonstrate the Power of Teamwork by playing a small role in something bigger than ourselves
Utilize the Power of Our Story as athletes to GIVE HOPE off the playing field
Create Champions in Life by practicing serving others
SPORTS PHILANTHROPY FOR HIGH SCHOOL AND CLUB ATHLETES
(Left) "You have taught me how to 'go to the balcony' in tough situations and think about how what I am saying or doing is affecting the people around me. You also worked really hard to bring our team closer and it sure has worked." - Olivia
(Right) "I understand now that the tools you taught us were not just about what happened on the soccer field but most important they were tools we need to use in life. You are such a blessing and you have taught me so many things that will help me be a better person. You are bright and loving and always there for us on and off the field." - Abbey