What difference could the next generation of givers make if they were trained to G.I.V.E.H.O.P.E. by identifying a social issue, developing HOPE as a currency and creating a project to produce a solution that involves giving hope?
G.I.V.E.H.O.P.E. is an introduction to Sports Philanthropy for the next generation of champions. Philanthropy is about being a giver. Sports is about training, playing, competing, friendships, and discovering how playing a small role in something bigger than ourselves can make an impact in our lives long after our sports season ends. The combination of being a giver - philanthropist - and being involved in sports, is a powerful combination to ignite championship change.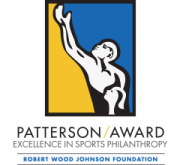 Championship Change begins with the "Power of Team." It begins with someone having the courage to share an idea, asking others to support them and then putting together a team of people passionate about making the idea a reality. The idea of G.I.V.E.H.O.P.E. is possible because of the Robert Wood Johnson Foundation's commitment to give hope to our family when Steve died. This is our way of giving back to a team of people that blessed our family in ways we will never be able to repay.
The G.I.V.E.H.O.P.E. fundamentals are based on what Steve and Carlette Patterson strive to live by based on what they have learned from the experiences and the people that have given them hope.
"To those whom much is given, much is expected." – The Bible
"You can't live a perfect day without doing something for someone
who will never be able to repay you." – Coach Wooden
"Do not let what you cannot do interfere with what you can do." – Coach Wooden
The Patterson Family would like to invite you to join
G.I.V.E.H.O.P.E.
4 the Next Generation.


© 2008-2021 Patterson Sports Ventures