Meet Our Partners

www.quantumsport.com
"The impact of PSV's Sports Life Coach training is one of the most significant developments in sport I have seen in recent years. It has innovated developing an athlete's inner fitness. Strong foundations are essential to enduring performance. The training program Carlette Patterson has developed for Sports Life Coaches is producing outstanding results."

Ken Youngson
Executive Director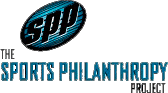 www.sportsphilanthropyproject.com
"Carlette Patterson is truly leading the field when it comes to enhancing the value of athlete and team sports philanthropy. Through her many years of experience, Carlette has served to inspire and fine tune our critically important efforts. Whether it is in motivating our practitioners, helping them strategically define purpose and mission, or in increasing sports philanthropic productivity, Patterson Sports Ventures is at the very top of our league!"

Greg Johnson
Executive Director
The Sports Philanthropy Project